Classes for 2-7 year olds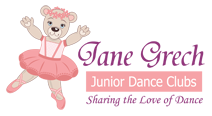 JGDC Clubs
Jane Grech Dance Clubs is the Junior School of Jane Grech Dance Centre. Our clubs cater for students between the ages of 2 years and 7 years of age.

Offering magical and educational experiences specifically designed for the emotional and physical wellbeing of our youngest dancers, over 400 students enjoy classes each week in our various venues in North East Adelaide.
Classes offered within our Junior School include:
Move with Me: Children 2-3 years Dance, Sing and Play with their parent or carer
Dance Magic: Dancers 3-4 years are introduced to the magic and wonder of Dance
DinoStomp! : Ideal for boys 3-4 years who like to Jump! Stomp! Roar!
Junior Dance Clubs: Ballet, Jazz and Tap classes for dancers 5-8 years
Students are welcome to trial their first class for free. Bookings and further information can be found at our sister site, visit by clicking here: Jane Grech Dance Club